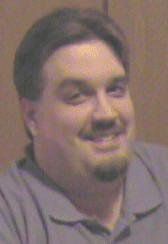 The following is a transcript of an internet chat - a memorial to Malcolm William Wilcox born in Phoenix, 1968, who died after his gastric bypass in year 2000:
Hawke was severely obese. His surgery was to modify his gastro-intestinal tract to make it possible for him to lose weight. He was deeply interested in educating people about this type of surgery, and created a web site for it. ...
It's ok C....he wanted everyone to know what he was doing so that others could get help too.
(C) He educated many about this style of surgery Cave, and other types of surgery. He opened many peoples eyes to what living with obesity is really like.
(B) in real life if I might be so bold as to interject... I am an RN.. and pulmonary embolis is very sudden and you are right .. about pain..It truely does happen that fast... the clot just breaks off.. and goes to vital organs... and I'm so sorry to hear of his untimely passing . if I might ask..how old was he?
(J) He was 31
(B) ahh indeed.... thank you. so young to be taken..

Thank you Mac
There are some people throughout our lives who will have a lasting impact on us. For me, there have been few such people.
One of them was Mac.
Mac gave me the courage to be me. He gave me the confidence in myself to stand up and dare to accept a challenge, and even make a few myself, even when everyone else had said it was wrong.
He taught me how to be graceful, a quality I have struggled a good deal with in my life. Most of all, he taught me it was ok to be human, and, to show emotion.
He gave me these things, because he displayed them himself, and encouraged it in others.
I have just one regret. I should have said "I love you" when we spoke, and not just "hugs and kisses". To display love, to accept and give it, is a lesson you have not taught me, until today.
Thousands of miles, and an ocean away, a tree is being planted. It will grow honestly, with strength and be beautiful, just like my friend Mac.
R.
From a girl
There was a brief moment in time -
When a rare friendship touched my soul
I think I must have blinked -
And felt my heart touched by another
A smile always crossed my lips -
When he would speak
And I knew that I had known someone special.
So briefly did I know him
That he now seems as ethereal as his own rainbow
Just as far reaching - just as beautiful.
Soaring high above the world
Unencumbered by earthly burdens - pain free
A Hawke looks down upon those he loves
Spreading his wings to still protect his girl
As he guides her through life
Proud of her strength -
The strength he gave her and taught her to use.
How he loved her - still loves her - and will always love her.
He touched people's lives in ways only imagined
He brought smiles and made people laugh
He did G-d's work without even trying
Till G-d decided to take him for His own
How to say goodbye?
I'm unable to.
Just a blown kiss heavenward -
from a swan to a Hawke - as he soars.
S.
Passed from this world to eternal life & entered Heaven - May 6, 2000
While on this earth
was a Loving Son to Pauline & I

Brother to Toni Fletcher & Jim Wilcox,
Brother-in-law to David Fletcher,
Grandson to Ethel Prettyman and Jim & Joan Wilcox
Loving life Partner to Carolyn Hall,
with whom he shared a "Special" deep relationship.
Uncle to Eric, Cathy, Mike Fletcher & Nick Hammann.
Nephew to Earl, George, Danny and Keith Prettyman.
Cousin to many,
and Friend to all.
I see many different groups, as his interests varied. Each area of life had a nickname -

Lil' Mac
(hated Malcolm)
Shorty
(Outdooor School)
Mac Hawke
(Internet)
Malcolm
(Accepted)
If you knew him by more than one name you were more blessed than others.

Interests
Music - Sang & Taught
Theater - High School & Portland Theatre
Internet -Web Pages
Favorite Things
Beach
Kites
Blazers
Rainbows
Internert – W.L.S.
Most Favorite……… Friends of all Kinds
Song - My Best Friend
Not many possessions, only many "Friends", but the measure of a man lies not in the things he leaves behind, but rather in the people whose lives he touches and betters.
He treated everyone the same, only different.
Remembrances
I had him convinced that I had arranged fireworks just for his Birthday, when I asked if he would like to do it again next year, he said "yeah". That lasted until he started school.
As a Singing Waiter at the Rhinelander Restaurant in Portland, he sang to Dolly Parton, said he had a hard time looking her in the eyes.
I really didn't think I'd last this long, but Shorty and I had talked about doing each others eulogy when something happened to the other, I certainly didn't think the Father would be doing this for the Son.
Malcolm was an organ donor, they told us they had a 30 year old person who could use one of his eyes, he is still helping someone to see the World in a different light.
You will sorely be missed by many "Son"
MISS ME
When I come to the end of the road
And the sun has set for me
I want not rites in a gloom filled room
Why cry for a soul set free
Miss me a little, but not too long
And not with your head bowed low
Remember the Love that we once shared
Miss me, but let me go
For this is a Journey all must take
And each must go alone
It is all part of the masters plan
A step on the road to home
When you are lonely and sick of heart
Go to the Friends we know
And bury your sorrow in doing good deeds
Miss me but let me go
Malcolm Wilcox, Sr.