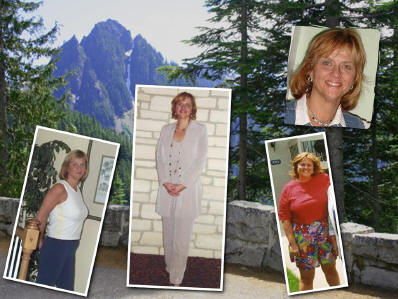 6 year RNY post op and good friend of mine, Vicki was charming and vivacious. She was also bright and articulate and very outspoken which sometimes was misunderstood as being insensitive. But Vicki was very sensitive and loved deeply and when she was your friend, you knew you could count on her being there for you. She was 48 years old. According to her husband, she was found unconscious in her hotel room while vacationing in Mexico - hubby and kids went home but she wanted to stay a couple of days longer. The autopsy stated that she died of a heart attack. Her obituary did not mention the WLS she had had.
Vicki Collins Ang

Vickie passed away peacefully on Sunday, Dec. 3, 2006. Vicki was born Jan 7 1958 in Lynwood, California to Charlene and the late Donald Collins.

Vickie was a beloved wife, mother, daughter and sister. She lead life to the fullest. Vicki was a symbol of love, passion, courage and excellence.

Vicki is survived by her husband Rick, son Gordon, daughter Zoe, mother Carlene and sisters Kathleen and Valerie.

Services for Vicki will be held for family members and close friends.
She was a member of my WLS community on yahoo for a while. Dear Vicki, I know you are in heaven with the angels now and I hope you will remember us and pray for us!
In memoriam to her, I reprint some of her messages:
From: vickiang <vickiang@yahoo.com>
To: WLS_uncensored@yahoogroups.com
Reply-To: WLS_uncensored@yahoogroups.com
Date: Nov 2 2006 - 5:58pm


OK Sue,

You understand me fully and I will try to get over my hurt feelings
because it's really only your opinion I care about. Knowing that
you understand and I can be open and honest with you, explore ideas,
well that's worth the world to me. If you believe in me like I
believe in you then I will stay and tolerate the abuse. Still hurts
though.

As far as this silly osteoporosis thing, I asked questions because I
had a belief system and had no idea. I am just now entering
menopause and this is a huge issue for me.

I'm doing all I can. I mean, I go to the gym 5x a week and do free
weights for this reason. I avoid alcohol altogether and monitor my
caffeine intake. I try to eat foods high in calcium, and I take
supplements.

To hear that because I have had wls and this may be an even bigger
problem than I thought scares the shit out of me. What else can I
do? I think I'm doing everything. Is it useless? Am I doomed
regardless?

And that is where I'm coming from...not saying you are right and I
am wrong.

Don't people understand that?

Vicki
> vickiang <vickiang@...> wrote:
Good question. Why? I am over 6 yrs [post op], steady, comfortable. I remember some snotty local lady haughtily saying she didn't need a support group anymore, implying that there was something wrong with me. Good for her.
>
> Well, I believe once you are a pickle, you will never be a
cucumber again. I need to be reminded on a daily basis that I live in a state of grace which can easily be withdrawn. My life may be normal now, but that's because I stay invested. Were I left to my own devices, I'm not sure that I could maintain.
>
> I said my lifestyle was normal. I certainly never meant to say that my mind was normal. Left unattended I still tend to get swayed off path. That is my natural tendency. Where I am now is practicing behaviors, but they are in no way my natural state.
>
I guess that's why I do this very first thing every single morning before I get dressed. So I stay focused and not take where I'm at for granted.
>
> So I guess that answers it for me.
>
> Vicki
>