Glenn Goldberg had fought a weight problem all of his life and when he decided on the drastic step of Weight Loss surgery, he wanted to write about it so others would know the whole story. An Attorney, he had a gift with words and was a brilliant researcher. Personally, he was gentle, caring and kind. I corresponded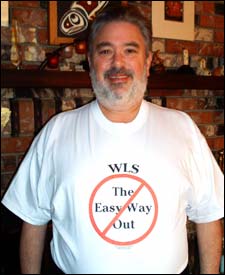 with him a lot - before surgery and after. He first had thought of getting a gastric bypass but being over the age of 50, he decided he had better chances getting restriction surgery only. His doctor did not do adjustable lap band but told him that the VBG was just as safe, so Glenn choose a VBG (vertical banded gastroplasty or stomach stapling only).

Glenn, a highly educated man, was a model patient. He took all his supplements, he exercised daily and by 2 years after surgery, was fit enough to do some hiking which he loved and he did with his beloved wife. In December 2004, 2 years after his WLS, while hiking with Kari, his wife, he collapsed and was dead on arrival. Sometime between Oct 2004 and December 2004, he had developed leukemia and it was in all his organs. Glenn had also been diagnosed with heart arhymia and had had a pacemaker inserted about 6 months before he died.

Glenn definitely had researched Weight Loss surgery and probably knew more than most of us about it. But the information which might have saved his life, the fact that an over 50 year old who loses a large amount of weight quickly is at high risk for heart arrhymias and immune challenge was not available in his research about WLS because this information is only available by digging through the obesity studies i.e. you will never see this on the news or popular media. We are told to lose weight however risky it might be, because it will make us healthier. What we are often NOT told is that there is no evidence that health is related to weight at all but to our food choices and our lifestyle.

Many people in the Weight Loss Surgery Community got to know Glenn. Many of us do not want him to be forgotten because he brought so much happiness to so many people and he was such a wonderful person. He was a friend of mine and I will keep him in my heart until perhaps some day we meet again.

Glenn wrote candidly about his WLS experience both good and bad and was, apparently working on a book. His wife, Kari, has stated she will finish his book. Glenn, farewell for now, we all love you and miss you and hope to see you again some day!